---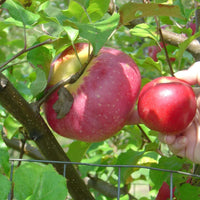 Plant Details

Zones: 3-8

Soil Types: Wide range

Soil Conditions: Well drained

Growth Rates: Fast

Maturity Height: 15-25 Feet

Production Starts: 3-5 Years

Harvest/Drop Details: September - Early October

Crop Abundance: Heavy

Specializations: Early season dropping, Huge Apple, Great for Pies

Plant Description

You want huge, well here you go! Wolf River Apple produces apples so gigantic that an apple pie can be made from one apple. The way I have it figured is that if a Whitetail will get up early from their beds when they hear acorns dropping from white Oaks, well then they should have no problem hearing these whopper sized apples hit the ground! Wolf River is also one of the easiest apple trees to grow and care for, as it is reportedly disease resistant.