---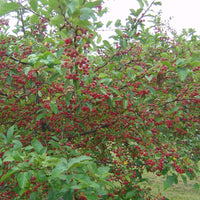 Plant Details

Zones: 3-8

Soil Types: Wide range

Soil Conditions: Well drained

Growth Rates: Fast

Maturity Height: 8-10 Feet

Production Starts: 2-4 Years

Harvest/Drop Details: Late season

Crop Abundance: Large

Specializations: True bush form apple tree

Plant Description

USDA release. Seed quality is maintained by MSU Plant resource center to insure quality seedlings. This crab is more shrub or thicket form than tree. Known for its excellent 8 foot bushy habit, which provides food and cover. Fruit averages a yield of 27 lbs every year. The fruit persist until spring and is an important late season food source for wildlife.