---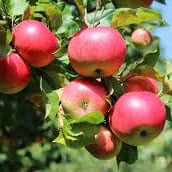 Plant Details

Zones: 3-7

Soil Types: Sandy to clay

Soil Conditions: Well drained

Growth Rates: Fast

Maturity Height: 20-25 Feet

Production Starts: 3-5 Years

Harvest/Drop Details: Early October

Crop Abundance: Large

Specializations: Great for pie

Plant Description

Ripens in late September to early October. Sweet Sixteen is resistant to fire blight and is another very cold hardy variety from Minnesota. Reportedly used by a champion pie baker with a history of blue ribbon winning pies as her secret ingredient. Apple when baked has a hint of vanilla flavor. Sorry bambi but a few of these are going to come up missing off your trees in the fall.