---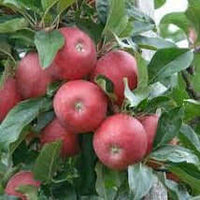 Plant Details

Zones: 3-7

Soil Types: Sandy to clay

Soil Conditions: Well drained

Growth Rates: Fast

Maturity Height: 20-25 Feet

Production Starts: 3-5 Years

Harvest/Drop Details: Early October

Crop Abundance: Large

Specializations: Cold Hardy

Plant Description

Another very cold hardy apple bred by the University of Minnesota. Ripens in early October. Nice crunchy juicy apple to eat out of hand.