---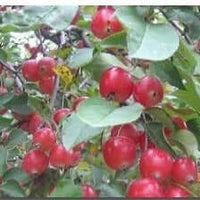 Plant Details

Zones: 3-8

Soil Types: Wide range

Soil Conditions: Well drained

Growth Rates: Moderate

Maturity Height: 12-17 Feet

Production Starts: 3-5 Years

Harvest/Drop Details: Through winter

Crop Abundance: Heavy

Specializations: Fruit through winter

Plant Description

The seed collected from this crabapple is from several trees growing together for the past 15 years. I've watched these trees produce very heavy crops every year. The size of the apples is very large for a crab, averaging over 1", and persists on the trees until spring, making it a fantastic late winter food source. Plant with Morse Yellow Crab for availability throughout the season. Branches are so loaded with apples that they actually hang on the ground! I would use this tree as a border around food plots, property lines, and under powerlines.