---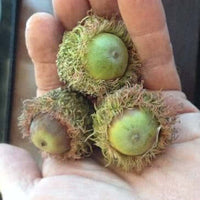 Plant Details

Zones: 3-8

Soil Types: Wide Variety

Soil Conditions: Well Drained, Soil Can be poor

Growth Rates: Very Fast

Maturity Height: 60-80 Feet

Production Starts: 3-8 Years

Harvest/Drop Details: August

Crop Abundance: Very Large

Specializations: Rare Genetics, Does well with poor soils

Plant Description

Ooti Bebb's Hybrid Oak can produce acorns in 4-8 Years. Beautiful tree with very nice sized sweet acorns. Tree is rare and very productive.