---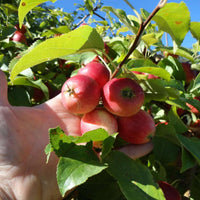 Plant Details

Zones: 3-8

Soil Types: Wide Range

Soil Conditions: Well-Drained

Growth Rates: Fast

Maturity Height: 25'

Production Starts: 3-5 Years

Harvest/Drop Details: Late Season

Crop Abundance: Large

Specializations: Mid Season Hunting, Large Crop

Plant Description

Nova Scotia Crab is a large fruit, and falls to the ground over 2-3 months. The parent tree is over 200 years old. Very vigorous growth.