---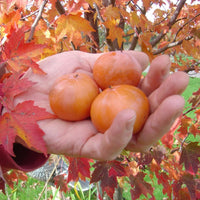 Plant Details

Zones: 4a-8

Soil Types: Wide Variety

Soil Conditions: Wetter Soils, Well Drained

Growth Rates: Fast

Maturity Height: 60'

Production Starts: 5-7 Years

Harvest/Drop Details: October

Crop Abundance: Very Large

Specializations: Cold Hardy and Heavy production

Plant Description

Morse Persimmon Grafted Female needs a male pollinator but is late dropping and our most Cold Hardy persimmon! Rated up to Zone 4a. This tree has survived -35 below zero!