---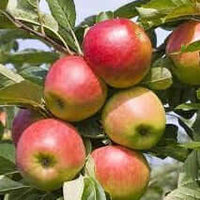 Plant Details

Zones: 4a-9

Soil Types: Clay, Sand, Loam

Soil Conditions: Moist, Well Drained

Growth Rates: Very Fast

Maturity Height: 25'

Production Starts: September, October

Harvest/Drop Details: September - November

Crop Abundance: Large

Specializations: Cold Hardy, Early Season Bow Hunting

Plant Description

The National apple of Canada so you know its Cold Hardy! This is a great Early Season Bow Hunting Apple Tree to have on your property. This apple drops throughout late September - Early November.