---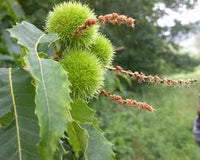 Plant Details

Zones: 4a - 8

Soil Types: Sandy, Sandy Loam, Rocky

Soil Conditions: Well Drained, Sandy

Growth Rates: Very Fast

Maturity Height: 50'

Production Starts: 3-5 Years

Harvest/Drop Details: October - November

Crop Abundance: Very Large

Specializations: Cold Hardy to Zone 4a

Plant Description

The Lorain Chestnut is the most Cold Hardy Chestnut we offer. It can withstand the temperatures of USDA Zone 4a, and drops its nuts mainly in October - Early November! Great for Mid - Late Season Hunting.