---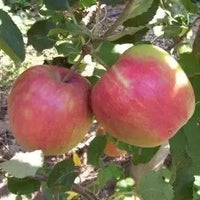 Plant Details

Zones: 3-7

Soil Types: Sandy to clay

Soil Conditions: Well drained

Growth Rates: Fast

Maturity Height: 20-25 Feet

Production Starts: 3-5 Years

Harvest/Drop Details: October-December

Crop Abundance: Very Large

Specializations: Great Eating Apple

Plant Description

Disease resistant that ripens in early October. Here is a good example of ripening times verses drop times being way different. This cultivar hangs onto most of its fruit well into November and December and should be used as a late variety.