---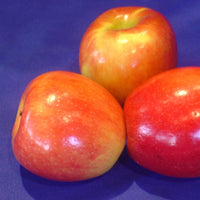 Plant Details

Zones: 3-8

Soil Types: Wide Range

Soil Conditions: Well Drained

Growth Rates: Fast

Maturity Height: 15-25 Feet

Production Starts: 3-5 Year

Harvest/Drop Details: mid-August - September

Crop Abundance: can sometimes over produce

Specializations: Great eating

Plant Description

Some of the very best tasting apples are Honeycrisp apples. The cellular structure is different than any other apple. The cells of these apples are larger and when bitten into produce noticeably a juicier explosion than that of other Apples. The Apples drop from Mid-August – September and is a great early season deer food. This great keeper quality is important to me, as I have observed Whitetails prefer firm apples over applesauce once on the ground. I've watched Whitetails dig these out of the snow something applesauce frozen to the ground would be hard to even accomplish for our herbivore friends.