---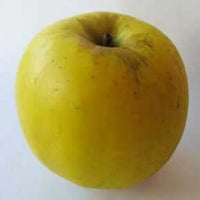 Plant Details

Zones: 3-7

Soil Types: Sandy to clay

Soil Conditions: Well drained

Growth Rates: Fast

Maturity Height: 20-25 Feet

Production Starts: 3-5 Years

Harvest/Drop Details: Early October

Crop Abundance: Large

Specializations: Late Season Hunting

Plant Description

We discovered this strain of Grimes when a customer and fellow orchardist in his mid seventies while purchasing trees told me about his unusual Grimes. The fruit from this tree is very large firm and delicious. He has allowed me to take scion wood from his tree and offer them to others who love this old time variety. Ripens early October.