---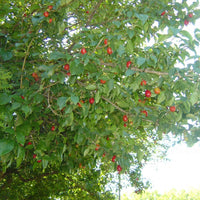 Plant Details

Zones: 3-8

Soil Types: Wide Variety

Soil Conditions: Well Drained

Growth Rates: Fast

Maturity Height: 12-15 Feet

Production Starts: 3-5 Years

Harvest/Drop Details: August - September

Crop Abundance: Large

Specializations: Game Birds Love These

Plant Description

Cornelian Cherry produces tons of edible cherries. Food source for both game birds and whitetails. One of the last to lose their leaves. Excellent cover.