---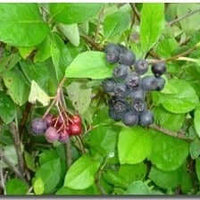 Plant Details

Zones: 3-8

Soil Types: Wide Variety

Soil Conditions: Wet Soils

Growth Rates: Very Fast

Maturity Height: 12-15 Feet

Production Starts: 2-5 Years

Harvest/Drop Details: August

Crop Abundance: Very Large

Specializations: Screens, Thickets, Browsing, Wet Soils, Shade

Plant Description

Chokeberry, what a name for a great wildlife plant. Abundant fruit that wildlife enjoy. Great for screening, cover and browse.