---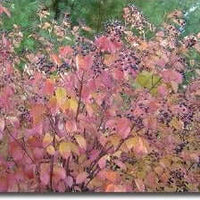 Plant Details

Zones: 2-8

Soil Types: Wide range

Soil Conditions: Wet Soils, Sandy

Growth Rates: Medium

Maturity Height: 10-15 Feet

Production Starts: 2-4 years

Harvest/Drop Details: August

Crop Abundance: Large

Specializations: Suckers, colonizes

Plant Description

This plant grows in the form of a cover plant that is just great for Whitetail bedding areas! Arrowwood Viburnum is stimulated when browsed to grow more branches. It produces berries in partial shade, and one of its more interesting features is that Indians made arrows from its very straight stems, thus the name "Arrowwood". Bowhunters can use this plant to feed whitetails and themselves, if you follow my thinking!