---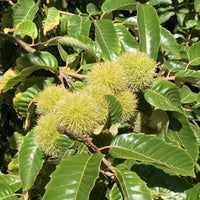 Plant Details

Zones: 4-8

Soil Types: Sandy, Sandy Loam, Rocky

Soil Conditions: Well Drained

Growth Rates: Very Fast

Maturity Height: 60'

Production Starts: 3-5 Years

Harvest/Drop Details: September

Crop Abundance: Large

Specializations: Grows Genetically Straight to Provide Timber Value

Plant Description

The Timber American Hybrid Chestnut Tree is a hybrid chestnut tree (Mollissima x Dentata) that is a blend of the American Chestnut and Chinese chestnut varieties making it blight resistant. This hybrid tree is ideal for timber production. Its hardy, drought-tolerant traits make it a great choice for many climates.