---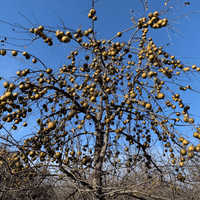 Plant Details

Zones: 3-8

Soil Types: Wide Range

Soil Conditions: well drained

Growth Rates: Fast

Maturity Height: 15-25 Feet

Production Starts: 3-5 Years

Harvest/Drop Details: November - February

Crop Abundance: Heavy

Specializations: Very late drop, Disease Resistant

Plant Description

Apples can hang in this tree as late as February here in Michigan and starts to drop in November. The fruit is characterized by a complex, rich spicy flavor with a high degree of acidity and sweetness. The apple retains its complex sprightly flavor and crisp, firm texture for at least 7 months at 1 C. The cultivar has been rated consistently as the highest quality apple after storage of all selections or cultivars tested at Purdue University. Excellent for Cider and Hard Cider.