---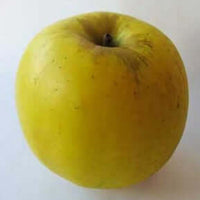 Plant Details

Zones: 3-8

Soil Types: Wide range

Soil Conditions: Well drained

Growth Rates: Fast

Maturity Height: 20-25 Feet

Production Starts: 3-5 Years

Harvest/Drop Details: Late season

Crop Abundance: Large

Specializations: Self-pollinating

Plant Description

Golden Delicious is one of the easiest apple trees to grow. It is one of only a few varieties that are self-fruiting, meaning that it does not need a pollinator to set fruit…a very nice feature. Golden Delicious is noted for their heavy crops and late ripening. Eat this apple right off the tree for a crisp, crunchy, sweet "Delicious" treat!