---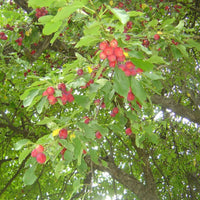 Plant Details

Zones: 3-8

Soil Types: Wide range

Soil Conditions: Well drained

Growth Rates: Fast

Maturity Height: 20-30 Feet

Production Starts: 3-5 Years

Harvest/Drop Details: August - September

Crop Abundance: Heavy

Specializations: Early drop, large fruit

Plant Description

Dolgo crab has very large dark purple fruit when fully ripe, that is packed with flavor as crabs go. These apples make great jellies and some add the juice to ciders as a secret ingredient. Fruit is one of the first available to wildlife dropping late summer/early Fall!