---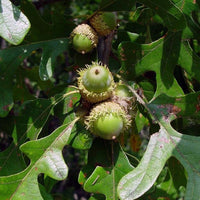 Plant Details

Zones: 3-8

Soil Types: Any soil type (including poor soils)

Soil Conditions: Well drained to slightly moist

Growth Rates: Above average

Maturity Height: 40-50 Feet

Production Starts: 3-8 years

Harvest/Drop Details: Early season

Crop Abundance: Heavy

Specializations: Early acorn production

Plant Description

This hybrid oak is made famous due to its ability to grow in any type of soil you throw at it! In our own test plantings we have put them in Rocky, Acidic, Sandy, Wet, Clay, Dry, and anything else you can think of! Not only a hardy tree, but it also has consistently produced at 4-6 years old. This acorn is also a sweeter acorn due to its cross!